"I could tell right from the first use that this is going to be a life-changing product for me. I've been struggling for years with my white loveseat and 2 fluffy grey cats that like to sleep on it. But this device completely amazed me!"
⭐⭐⭐⭐⭐ - Shannon D. ✅Verified Buyer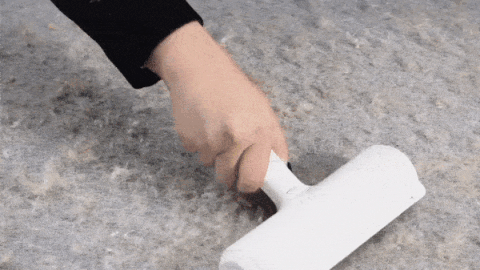 INSTANTLY COLLECT ALL PET HAIRS AND LINTS IN YOUR HOME!
All of us know how frustrating it can be when the fur of our pets gets stuck in our couches, beddings, and couches because they are hard to remove. Thus enter the Pet Hair Remover Roller that will solve all that in just one roll of this device. 
This Pet Hair Remover Roller is perfect for removing furs daily from the sofa, chairs, and furniture as it is equipped with durable nylon bristles that make it possible. 
Reusable, & Instantly Removes Furs And Lints
✅Reusable: That's right! This Pet Hair Remover Roller is all you need to get rid of all your furs from your sofas, couches, beds, carpets, blankets, comforters, and then you can use it again. Just throw the contents in the dustbin and you are good to go!
✅High-Quality: The Pet Hair Remover Roller is high-quality nylon and ABS plastic, both known for their durability and longevity. All of these features make sure that this can last for years to come!
✅Hair Remover For Fabric: This Pet Hair Remover Roller can collect furs and lint from furniture such as cotton, linen, and wool without damaging the materials. It's perfect for homes with pets that love to sleep on the couch or the bed.
✅Easy to Clean: Our Pet Hair Removal Roller is also easy to clean with a cloth or soap. It doesn't have any hard-to-reach nook and cranny, so you know it will be as good as new in no time. 
✅Perfect Gift: The Pet Hair Remover Roller is the perfect item for any pet lover to get. They will certainly be thrilled when receiving this because it will clean up their house while also pampering their pets.
Package Includes
1 x Pet Hair Remover Roller